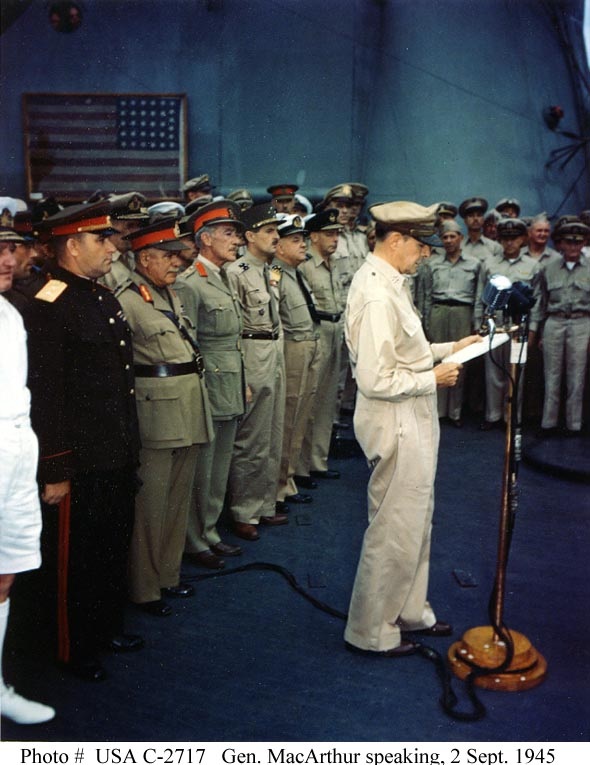 Генерал Армии Дуглас Макартур произносит речь
на открытии церемонии капитуляции Японии на борту линкора "Mиссури"
© USA Naval Historical Center
Surrender of Japan, Tokyo Bay, 2 September 1945

General of the Army Douglas MacArthur, Supreme Allied Commander, reading his speech to open the surrender ceremonies, on board USS Missouri (BB-63).
The representatives of the Allied Powers are behind him, including (from left to right):
Admiral Sir Bruce Fraser, RN, United Kingdom;
Lieutenant General Kuzma Derevyanko, Soviet Union;
General Sir Thomas Blamey, Australia;
Colonel Lawrence Moore Cosgrave, Canada;
General Jacques LeClerc, France;
Admiral Conrad E.L. Helfrich, The Netherlands and
Air Vice Marshall Leonard M. Isitt, New Zealand.
Lieutenant General Richard K. Sutherland, U.S. Army, is just to the right of Air Vice Marshall Isitt.
Off camera, to left, are the representative of China, General Hsu Yung-chang, and the U.S. representative, Fleet Admiral Chester W. Nimitz, USN.
Framed flag in upper left is that flown by Commodore Matthew C. Perry's flagship when she entered Tokyo Bay in 1853.

Photograph from the Army Signal Corps Collection in the U.S. National Archives.